PRO ORIENTE invites to the premiere of the film "Listening to the East"
Documentary film shows the colourful diversity of the Orthodox and Oriental churches, which have long since arrived in Europe - Premiere on May 15 in the Vienna cinema at Spittelberg - For the project, the renowned filmmaker Robert Neumüller was won over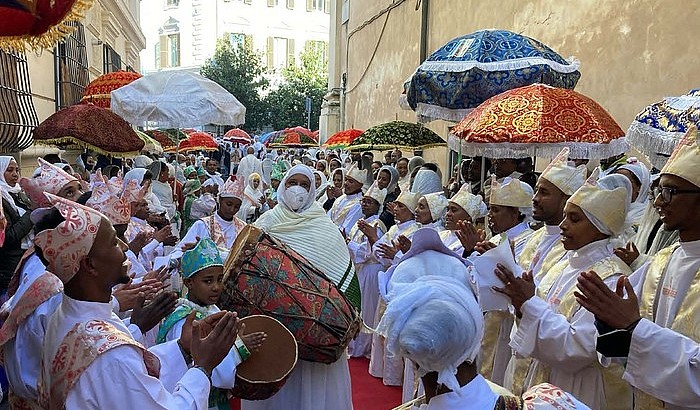 Vienna, 02.05.23 (poi) "Listening to the East" is the name of a new documentary film by the PRO ORIENTE Foundation, which aims to bring the diversity of synodal practices and structures in the life of the Orthodox and Oriental churches closer to a broad audience. For the project, the foundation was able to win the renowned filmmaker Robert Neumüller, who designed and produced the film together with PRO ORIENTE projects and communications officer Viola Raheb. The film premiere is on Monday, May 15, at 6 p.m. at "Kino am Spittelberg" (Spittelberggasse 3, 1070 Vienna).
The starting point for the film were three international ecumenical conferences to which PRO ORIENTE together with the Institute for Ecumenical Studies (IES) of the Pontifical University of St. Thomas Aquinas (Angelicum) had invited to Rome last November. More than 150 experts from the Orthodox and Oriental churches presented synodal theologies, practices, experiences, and different expressions of spirituality in the various churches in order to make them fruitful for the Synodal Process of the Catholic Church initiated by Pope Francis.
Numerous participants of the conferences have their say in the film, and Neumüller also visited several Orthodox and Oriental diaspora parishes in Rome and immersed himself with the camera in the fascinating Eastern liturgies and parish life on site.
"The Christian Orient with its colourful richness has long since arrived in Europe and also in Austria," Raheb said ahead of the premiere. With the film project, PRO ORIENTE wants to offer surprising and enriching insights into a "largely unknown world". In terms of content, it is about synodality in the Eastern Churches, at the level of the bishops among themselves, but also in monastic life, as well as with regard to the participation of lay people, especially women and young people - areas that are equally crucial for all churches in the future. The 53-minute documentary aims to offer some food for thought in this regard.
Director Neumüller, Viola Raheb and PRO ORIENTE President Alfons M. Kloss will be present at the premiere and will be available for questions and discussion following the film. "Listening to the East" - the film is in English - will also be shown at other locations in Austria. In addition, the foundation will also make the film available for broadcast internationally, with a view to church television stations, especially in the global South, Raheb said.
A trailer is already available on the Internet at: https://youtu.be/1RfRHO6RvUA.
Registration is requested (by May 10) by e-mail to office@pro-oriente.at or by phone at 01-5338021.